The Nikon Z8 hasn't been out long, but so far, there have been two service recalls on the Nikon Z8, coming just over a month apart. These generally affect the very earliest batches (of which I happen to have one).
And, unfortunately, these aren't the types of bugs that can be fixed quickly and easily with a firmware upgrade. Nor are they DIY fixes. They both require sending the camera to an authorized Nikon service facility. Which, of course, means time without the camera. 
In both cases, Nikon will repair affected devices for free, whether or not they are actually displaying the problem. But you need to send your camera to Nikon (Nikon covers shipping costs). This holds regardless of whether the camera is still under warranty or not.
Of course, it's disappointing that these issues are happening at all, especially on a high-end camera like the Z8. And the time the service process takes is a major inconvenience, especially if you're a working professional photographer. But it's a situation where NPS membership comes into its own, if you happen to have it.
Here are the current service recalls on the Nikon Z8. Hopefully, there won't be any more. But if there are, I'll add them here.
Table of Contents
Can't Lock Lens on Nikon Z8
This was the first issue that prompted a service recall from Nikon. It prevents a lens from properly locking into place on the camera mount. That presents a risk of the lens coming loose and falling as well as not being able to shoot with it because the electronic contacts are not in place.
This is known to affect specific early batches of Z8s. Once they recognized and acknowledged the issue, they adjusted their manufacturing and quality control measures to correct it before releasing the new batches for sale.
Strap Loops Breaking Free on Nikon Z8
While the first service recall prevented shooting, this one could cause catastrophic damage to the camera.
We just trust that those small strap loops on each side of the camera are bolted securely to the camera's frame. If they're not, the camera could fly loose from a strap and fall to the ground and potentially cause much more damage to camera and lens.
And that's precisely what has happened to some Z8 shooters. The small screw can come loose and break free.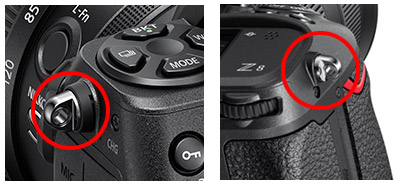 Nikon says that it mainly becomes an issue after some bumps and knocks, but that's hardly reassuring or even avoidable in some situations.
Again, the issue is only known to affect specific batches of Z8s that can be identified by their serial number, and it has supposedly been fixed in newer batches. (Information on how to check yours against the affected range is below.)
How To Find The Serial Number of a Nikon Z8
To see whether your camera is affected or qualifies for the pre-emptive repair, you'll need to check its serial number against the range provided by Nikon.
On the Z8, the serial number is printed on the back panel, under the back screen. You'll have to fold the screen out to see it.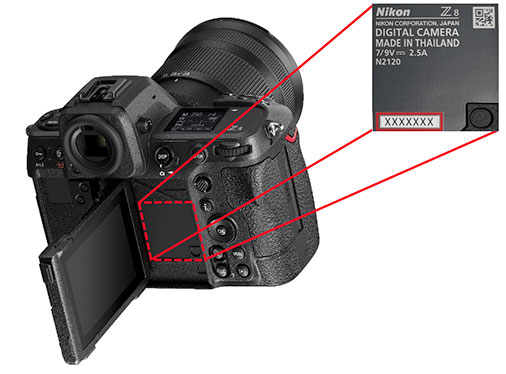 The serial number consists of 7 digits.
How To See Whether Your Camera Qualifies for Pre-Emptive Repair
Once you have the serial number, head on over to the eligibility checker on Nikon's service site.
If your camera falls within the affected range, it'll walk you through the process to proceed with the repair, including printing out pre-paid shipping labels. They appear to have a backlog, so they're holding off on sending shipping labels until they're ready to receive the camera.